Reference Electrode
$152.50 – $219.50
Assess your vessel in a few easy steps
Detect corrosion.
Identify stray current.
Establish the life span or your anodes and coating.
Description
What is Rust Seeker?
Rust Seeker™ is a silver/silver chloride reference electrode. It measures the electrochemical potential of your vessel, indicating whether your vessel is adequately protected against corrosion.
Using Rust Seeker™ and most standard multimeters you can take readings around your vessel, and then compare the results against the assessment table to check if your vessel is protected against corrosion.
How does it work?
Rust Seeker™ is an electrochemical cell which has a stable and reproducible potential so it can be used as a reference point for voltage measurements. Rust Seeker™ consists of a silver wire, coated with a layer of silver chloride, which is saturated in a potassium chloride gel.
The porous plug allows contact with the seawater which allows Rust Seeker™ to consistently produce accurate electrochemical potential readings of your vessel.
Where can I use Rust Seeker™?
Rust Seeker™ is designed for use in clean seawater. It is designed to be used on aluminium and steel hulled vessels. Rust Seeker™ can also be used in freshwater.
Is my multimeter suitable?
Rust Seeker™ works with most commonly available digital or analogue multimeters. For the most accurate readings the multimeter requires an input impedance of at least 10MΩ (megohms) and an accuracy of +/-10mV (millivolts) or better.
More information available  here.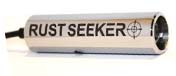 Additional information
| | |
| --- | --- |
| Weight | N/A |
| Dimensions | N/A |
| Cable length | 5 Meters, 15 Meters, 30 Meters |
Only logged in customers who have purchased this product may leave a review.